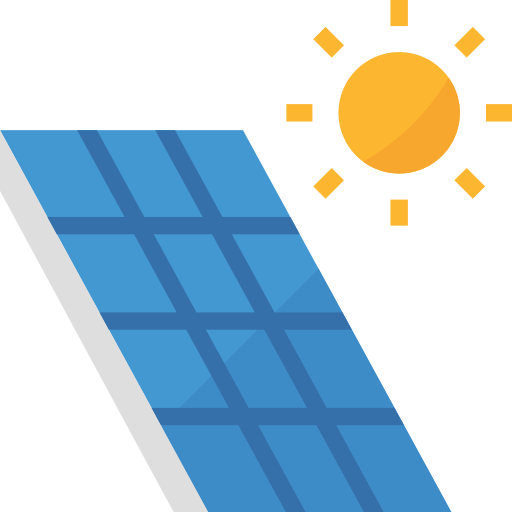 Ever wonder, as you walk past rows of houses with rooftop solar panels or drive past large solar arrays in open fields, just how big a solar installation can be? When we say 'big,' what size are we talking about? And where are the largest ones located?
With global energy demands ever increasing, developers continue to eye open farm land and desert expanses as potential locations for the energy grid of the future. 'Solar farm' is the term often used in North America because these solar installations were first established on open farm land. The alternative term 'solar park' was first used in India and China nearly a decade ago, so it's not surprising that most of the largest solar parks in the world are located in these two nations. For the environmentally conscious this is encouraging, considering that India and China are among the biggest global producers of carbon dioxide emissions.
To cut down on confusion on what we mean by 'largest solar farm' (or 'largest solar park'), we will not be including companies with the greatest number of solar panels in operation, nor will we include solar plants spaced too far out to be considered a 'cluster.'
With that in mind, here are the 12 largest solar farms in the world: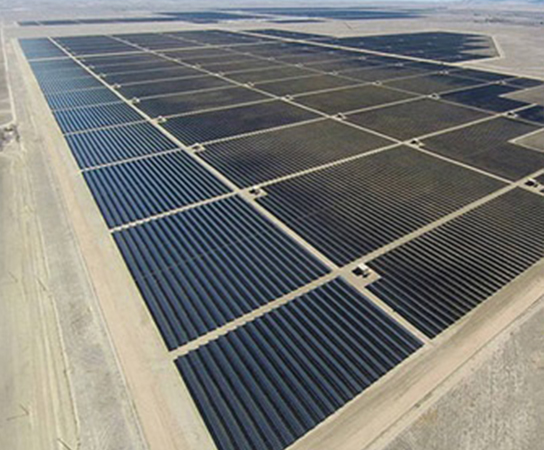 Solar Star (US)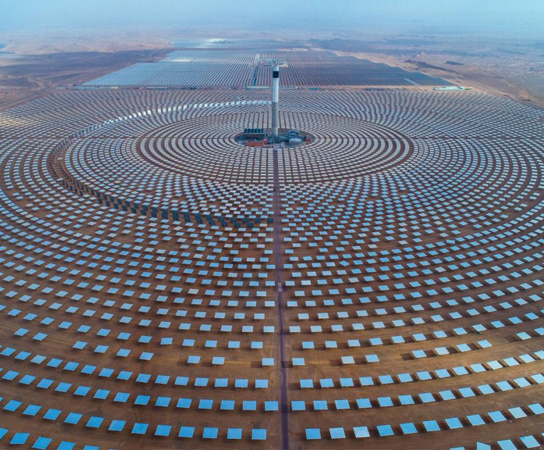 Noor Complex Solar Power Plant (Morocco)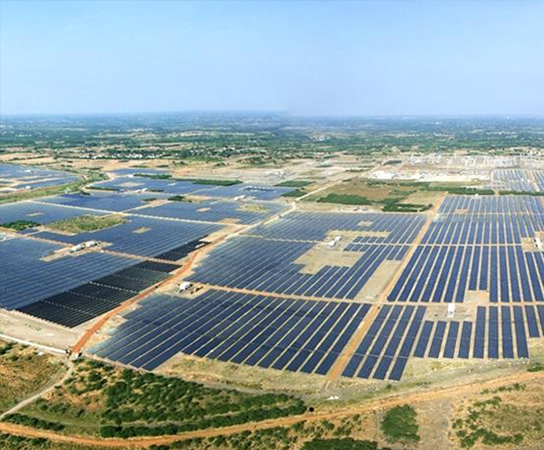 Kamuthi Solar Power Project (India)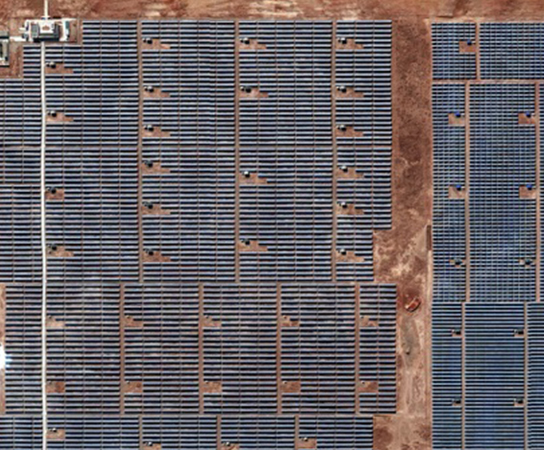 Longyangxia Dam Solar Park (China)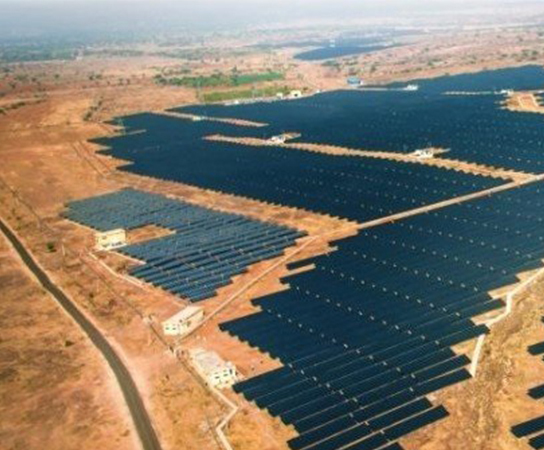 Kurnool Ultra Mega Solar Park (India)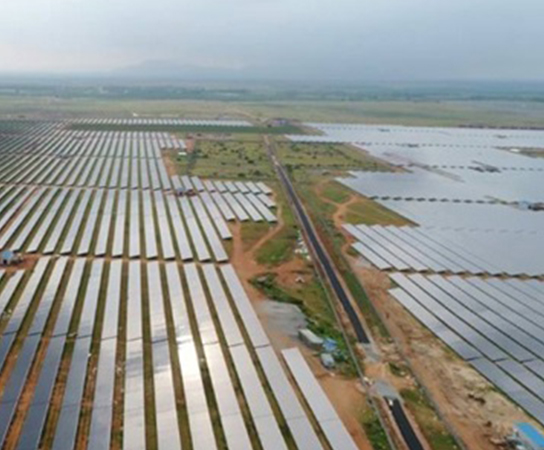 Pavagada Solar Park (India)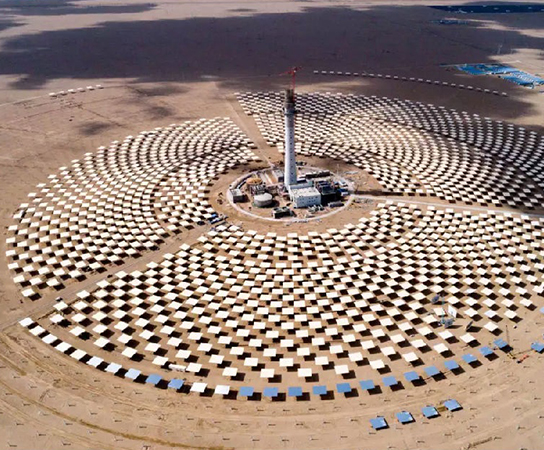 Haixi Delingha Solar Park (China)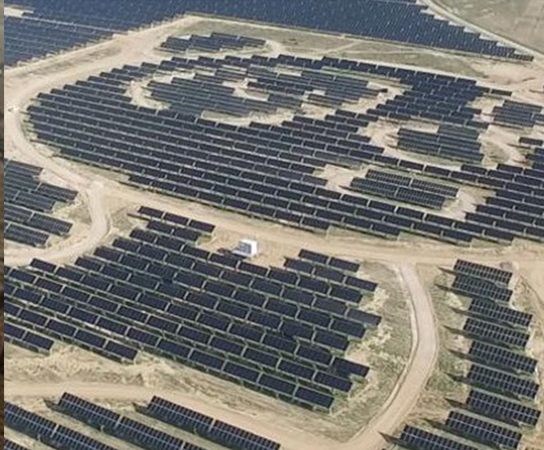 Noor Abu Dhabi Solar Park (UAE)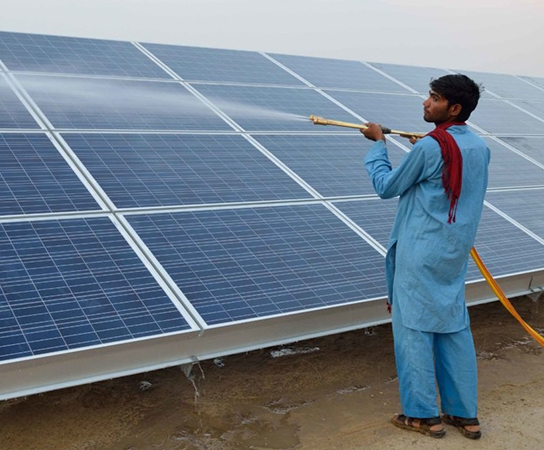 Bhadla Solar Park (India)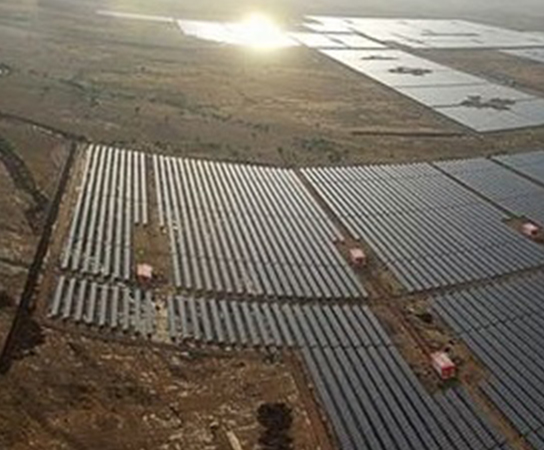 Golmud Desert Solar Park (China)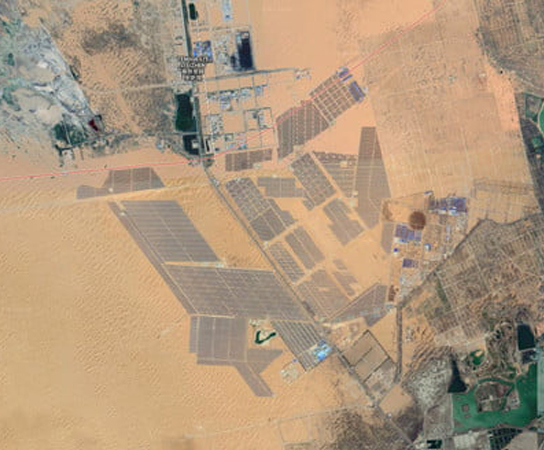 Tengger Desert Solar Park (China)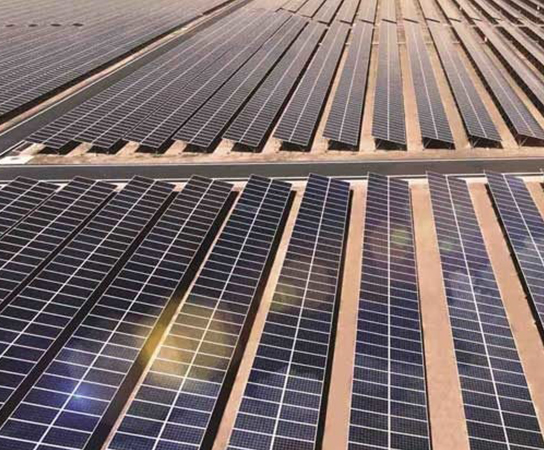 Sheikh Mohammed Bin Rashid Al Maktoum Solar Park (UAE)
579
MegaWatts
Powers
255,000 homes
12.9 Square Kilometres
(3,200 acres)
Solar Star is a 579-megawatt solar park located in Rosamond, California that provides power to 255,000 homes in Southern California. At the time of its completion in 2015, Solar Star was the biggest farm in world, consisting of 1.7 million solar panels situated on 3,200 acres (12.9 Square Kilometres) of land. The solar panels utilize a single-axis tracker that follows the sun throughout the day, making them approximately 25% more efficient than motionless panels.
Though not the largest in the world anymore, Solar Star is still the largest solar farm in the US and will likely remain at the top. Why? When Solar Star was constructed in 2015 it was to meet stringent standards set by the State of California; thus, the cost of building such a huge array was not paramount. Since then, the benefits of smaller, more local solar installations have become apparent in terms of lower costs and fewer power outages.
2. NOOR COMPLEX SOLAR POWER PLANT (MOROCCO)
510
MegaWatts
Serves
1 million
people
The Noor Complex currently generates 510 megawatts, and when its additional capacity opens in 2020 the site will reach 582 megawatts. That power will serve one million people in Morocco from its location in the Sahara Desert.
This solar park, which is also called Ouarzazate Solar Power Station, is one of the largest concentrated solar plants worldwide at a size of 1680 Acres (6.79 Square Kilometres). In a concentrated solar power system, solar power is generated by using mirrors or lenses to focus a large area of sunlight onto a small area. The concentrated light is converted to heat that drives a heat engine, which is connected to an electrical power generator.
648
MegaWatts
Serves
750,000
people
3. KAMUTHI SOLAR POWER PROJECT (INDIA)
The Kamuthi power station encompasses 2.5 million solar modules that have the capacity to generate 648 megawatts of power for 750,000 people in India. When the plant was completed in late 2016 it was not only the largest installation in the world taking up 2500 Acres (10 Square Kilometres), but had been constructed in the record time of eight months. This was the first step in India's plan to supply 60 million homes with solar power by the year 2022.
The solar panels in this park are cleaned daily by a robotic system that is powered by solar energy.
4. LONGYANGXIA DAM SOLAR PARK (CHINA)
850
MegaWatts
Powers
250,000
households
Located on the Tibetan Plateau in China's Qinghai province, Longyangxia Dam Solar Park occupies 6100 Acres (25 square kilometres) and consists of four million individual solar panels. The solar farm, which has the capacity to generate 850 megawatts, powers 200,000 households.
The solar power station is situated at the Longyangxia Dam on the Yellow River at the entrance of the Longyangxia canyon. The dam's hydroelectric power station, which generates 1280 megawatts, is integrated with the solar power station.
5. KURNOOL ULTRA MEGA SOLAR PARK (INDIA)
1000
MegaWatts
1 Billion
price tag
With a $1 billion price tag, the Kurnool Ultra Mega Solar Park delivers 1,000 megawatts of solar power via four million solar panels. As long as the farm gets enough sun, it is set to provide all of the electricity needs of the Kurnool district of Andhra Pradesh. The park, which is located in Panyam Mandal sits on 5900 acres (24,000 Square Kilometres) of land.
There are similar-sized solar farms that serve other communities in India, including Rewa Ultra Mega Solar, an installation that provides 750 megawatts to the Rewa district of Madhya Pradesh.
6. PAVAGADA SOLAR PARK (INDIA)
2000
MegaWatts
Powers
700,000 homes
The Pavagada solar park is poised to make a leap forward in capacity by the end of 2019 by taking its current 1,400 megawatt output to 2,050 megawatts. Once completed, the site will power approximately 700,000 homes in the Tumkur district of Karnataka. The location of this farm on an elevated plateau was chosen for its lack of rainfall and is 13,000 Acres (53 Square Kilometres) in size.
7. HAIXI DELINGHA SOLAR PARK (CHINA)
>1000
MegaWatts
The Delingha Solar Park located in Haixi, Qinghai Province has the capacity to generate over 1,000 megawatts. This includes 200 megawatts produced via concentrated solar power by three plants.
Delingha is also a solar park built on a plateau 9800 Feet (3000 metres) above sea level, and seems highly efficient taking up only 607 Acres of land (2.46 Square Kilometres). The annual energy production from Delingha will keep the province from having to burn 60,000 tons of coal resulting in the prevention of over 100,000 tons of carbon dioxide being released into the atmosphere every year.
8. NOOR ABU DHABI SOLAR PARK (UAE)
1.17
GigaWatt
3.2 million
solar panels
1.1 million tons
carboon footprint decrease
In July 2019, the Noor Abu Dhabi solar park commenced commercial operation with a 1.17 gigawatt capacity. The 247 Acre (8-square-kilometre) farm has 3.2 million solar panels that can supply power to 90,000 people at a cost of US$0.02 per kilowatt hour.
Abu Dhabi's dependence on natural gas for electricity generation is expected to be greatly reduced following the solar farm's startup, resulting in a carbon footprint decrease of 1.1 million tons. (This is tantamount to taking 200,000 cars off the road.) The move is part of the UAE's Energy Strategy 2050 initiative, which aims to increase the contribution from clean energy from 25% to 50% in the power generation mix by the year 2050.
2.3
GigaWatts
40 Square Kilometres
(10,000 Acres)
9. BHADLA SOLAR PARK (INDIA)
The Bhadla Solar Park is big and getting bigger. The solar farm, which currently provides 1,800 megawatts of capacity and occupies 10,000 acres (40 Square Kilometres), will be expanded to a total capacity of 2.3 gigawatts. Furthermore, the park offers some of the cheapest solar rates in India, including rates as low as US$0.03 per kilowatt hour.
Bhadla is an arid region with average temperatures over 110 degrees Fahrenheit that experiences frequent sand storms. Perhaps this is why the region, which has been described as virtually unlivable, is so perfect for a huge solar installation!
10. GOLMUD DESERT SOLAR PARK (CHINA)
1.8
GigaWatts
The Golmud Desert Solar Park is a cluster of over 50 solar power plants with a combined capacity of over 1.8 gigawatts. Among these plants is a 200 megawatt solar power station, one of the largest individual photovoltaic power plants in the world. What's more, this solar farm has an area that could potentially accommodate up to 5 gigawatts of capacity, which would make Golmud the largest operation worldwide.
Golmud is perched up on the Tibetan plateau at an elevation of 9100 feet (2800 Metres), takes up 370 Acres (1.5 Kilometres) and is located within (4.3 miles) 7 kilometres of the airport.
1,500
MegaWatts
43 Square Kilometres
(Over 10,000 Acres)
11. TENGGER DESERT SOLAR PARK (CHINA)
Although its official capacity has been disputed by experts (some claiming it has 1,500 megawatts of capacity, others saying half of that figure is more likely), Tengger Desert Solar Park in Zhongwei, Ningxia is one of the largest is size, occupying 10,000 Acres (43 square kilometers.)
Not much is known about Tengger and the only photos available are satellite photos taken by NASA. It is however located in a remote desert and faces the challenge of transmitting power to distant, more populated areas.
12. SHEIKH MOHAMMED BIN RASHID
AL MAKTOUM SOLAR PARK (UAE)
5 GigaWatts
by 2030
77 Square Kilometres
(19,000 Acres)
Though it currently has a capacity of 200 megawatts, look for the Sheikh Mohammed Bin Rashid Al Maktoum Solar Park to overtake the competition soon. The facility has a planned capacity of 1,000 megawatts by 2020, and will eventually reach 5 gigawatts by 2030. The solar farm is spread over a total area of 19,000 Acres (77 square kilometers) and includes an innovation center, R&D operations, testing facilities and a solar powered water desalination plant.
The cost to build the Sheikh Mohammed Bin Rashid Al Maktoum Solar Park was a whopping $13.6 Billion dollars, but this is due to not only its sheer size, as it also boasts the worlds tallest thermal energy tower.
While our list shows some of the largest solar installations worldwide, the solar industry is developing rapidly, and the leader in any category won't stay on top for long.
Published December 20, 2019.